Utställning; "Window of Death" Gerhard Blum
"Window of Death"
Gerhard Blum
11.08.2023 – 10.09.2023
Konstnären Gerhard Blum visar sex större målningar, sex kopparprints och ca 150 mindre verk på restaurang Riche.
Efter en cancerdiagnos har konstnären Gerhard Blum sammanställt utställningen "Window of Death" där temat är döden.
Alla verk är till salu och Gerhards målningar visas runt hela baren och i delar av matsalen.
Gerhard har varit verksam konstnär i många år och har länge arbetat med temat "Kings, Queens & Penises". Där motiven ofta är kungar och drottningar, de är könsöverskridande och nakna och med en tydlig röd penis. Med detta tema vill Gerhard förmedla att alla är sin egen kung eller drottning, och det är inte en fråga om monarki, utan en tanke om ens egen självuppfattning.Denna utställning på Riche har en lite annan vinkel och flertalet verk (de 150 mindre verken) är något som fyllt Gerhards dagar de senaste åren, och dessa verken har också blivit färgade av hans cancerbesked. De sex stora verken har djurtema och insekter är starkt representerade. De sex stora verken har djurtema och insekter är starkt representerade. Bland motiven återfinns nyckelpiga, skarabée och trollslända, var för sig är de vackra, skimrande målningar, och alla tillsammans skapar de en påminnelse om alltings förgänglighet.
Den tyskfödda Gerhard Blum har länge levat med både Stockholm och Berlin som arena, och en del av inspirationen kommer från Marocko som han besökt årligen. En stor del av hans erfarenheter kommer även från London där Gerhard tidigare har verkat och levt. På de senaste åren har Gerhard haft Stockholm som sin fasta bas.
Såhär skriver QX,
" Konstnären Gerhard Blum ställer ut på Riche: "Jag vill ge en gladare bild av döden!"
Om du är sugen på en egensinnig och djärv konstupplevelse i en annorlunda miljö bör du bege dig till restaurang Riche den 11 augusti – då har konstnären Gerhard Blum vernissage för sin utställning "Window of Death". Gerhard, som har bott i både Berlin, Innsbruck och London, har numera Stockholm som sin fasta bas. För QX reporter Pär Jonasson berättar han om sin spännande karriär, även inom modevärlden, och om varför han valde döden som tema för sin kommande utställning."
Läs hela artikeln här på QX.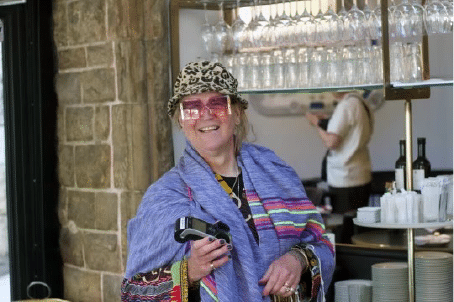 Tack till koppartryckaren Siv Johansson för stöd och hjälp.