Teatergrillen är stolta över att presentera
verk av Klara Kristalova.
(verken är till salu)
Klara Kristalova på Teatergrillen.
19.11.2022 – 26.01.2023
Med titlar som Up in Smoke, In Full Bloom, Uggla, Mistress och Stjärnan
kryper sig Klaras värld in på Teatergrillen. Klara visar stengods skulpturer, målningar, teckningar och grafik i Teatergrillens matsal och Bar.
Vissa verk smyger sig in i fönsternischer, men andra hängs på väggar för att påminna om Klaras briljanta målningar och teckningar som ibland inte fått lika mycket uppmärksamhet som hennes skulpturer (på Kungl. Konsthögskolan. gick hon grafiklinjen).
Eftersom Teatergrillen tjatade på Klara så gick hon med på denna utställning och en till orsak är att hon gillar att visa sina verk i oväntade sammanhang och är glad att konsten inte bara visas i "den vita kuben". Så passa på att komma och se Klaras verk i en miljö där hon gillar att de överraskar.
Om ni vill se mer av Klara är hon nu aktuell på Hayward Gallery (London) med en utställning som pågår fram till början av januari. I denna konsthall kan man kliva in i ett rum där Klara Kristalova har skapat ett eget universum och hennes skulpturer presenteras i en helt underbar omslutande installation. I denna installation har hon lyckats utmärkt med att brotta ner den vita kuben.
Klara Kristalova kommer även ställa ut på Lehmann Maupin i London i juni.
Klara Kristalova är representerad av Galleri Magnus Karlsson.
Teatergrillen tackar galleriet för fint samarbete.
Klara Kristalova är född 1967 i Prag, och bor och arbetar utanför Norrtälje.
Hon studerade vid Kungliga Konsthögskolan i Stockholm (1988–1993).
Kristalova etablerade sig med ett antal utställningar och offentliga uppdrag i Sverige innan hon blev internationellt erkänd i slutet av 2000-talet. Klara utbildades vid grafiklinjen på Kungliga Konsthögskolan, men har idag gjort sig känd för skulpturer, framför allt för målade glaserade porslinsskulpturer.
Hon blev ledamot av Konstakademien 2012.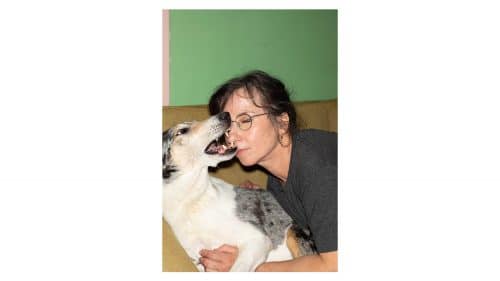 Hon har sedan sin utbildning ställt ut på gallerier och museer runt om i världen,
inklusive separatutställningar på
Site Santa Fe, USA (2009),  San Francisco, USA (2011),
Bonniers Konsthall, Stockholm, Sverige (2012),
Göteborgs Konstmuseum, Sverige ( 2013),
Västerås Konstmuseum, Sverige (2013)
Norton Museum of Art, West Palm Beach, USA (2015)
Gl Strand, Köpenhamn, Danmark (2017).
Hon är representerad i offentliga samlingar inklusive Moderna Museet, Stockholm,
Broad Art Museum, USA, FNAC, Paris, Frankrike,
EMMA, Esbo, Finland, Norton Museum of Art, USA.
Photo cred;
Carl Henrik Tillberg; skulptur
Märta Thisner; Klara Kristalova och hund