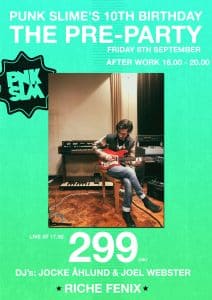 PNKSLM Recordings are (somehow) turning 10 years old this year, and as part of their birthday party weekend, we're having a free warm-up AW party at Riche Fenix.
We're flying Welsh music legend Gavin Fitzjohn over to perform as his solo moniker "299" for the first time ever, anywhere on planet earth.  Somewhere in between stadium tours with Stereophonics, and writing number-one UK albums with Paulo Nutini, Gavin found time to record his lo-fi swampy debut solo record "The 299 Game", written and recorded in motel rooms across the US, which was released on PNKSLM back in 2020. We're very excited to finally have him over in Stockholm, and you won't want to miss it.
Extra musical entertainment shall be provided over the DJ decks, via local amateur food blogger Jocke Åhlund, and the allegedly-handsome Joel Webster from Birmingham UK.
16.00 – 20-00, and 299 will be performing around 17.30.
See you there!