Hearts of Stone, Anna Harström
Riche Fenix
2023.02.15 – 2023.04.15
Anna Harström (1993) bor och verkar i Stockholm och på Gotland.
Bredvid en kohage har keramikern och konstnären Anna Harström sin verkstad. Den är i en liten liten ladugård från 1800-talet med rostiga cykeldelar fastspikade på väggen. Anna bor på Södermalm i Stockholm och har sin keramikverkstad på Gotland.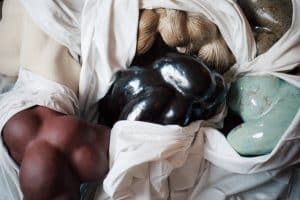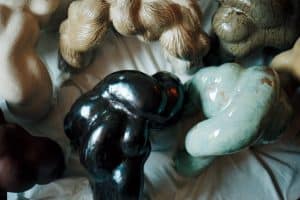 Creatures of Mud
Zeus skapar Pegasus genom att sätta ihop bitar av moln i Disneys version av Hercules från 1997. Anna har gått in i sitt alter ego som härskare över mellanrummen och skapat en flock av lera. Under sin tid på Konstfack (2019–2022) började hon arbeta med olika keramiska skulpturer på ben, som fått samlingsnamnet Creatures of Mud. Processen är pågående och handlar om funderingar kring möbelns användbarhet, skulpturens plats på podiet och var mötet blir däremellan.
Hearts of Stone
Hearts of Stone, en serie keramiska skulpturer som visas för första gången på Riche Fenix, är en ny generation ur Creatures of Mud. De är ankare i tillvaron, hemmets hjärtan, hustomtar och fungerar som totem i Annas värld.
Råa och glaserade ytor blandas på mjuka förstenade former. Det taktila är prioriterat hos de sju objekten
som alla är gjorda för att vara abstrakta varelser.
I samband med utställningen släpps även en rätt av köket på Riche Fenix som du får serverad i skålar gjorda av Anna.
I baren visas också ett Anna Harströms fruktskulpturer.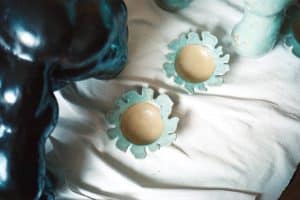 Anna har tidigare ställt ut sina Creatures of Mud i grupputställningar på bland annat Sven Harrys konstmuseum, The New Contemporary/Stockholm Creative Edition och vid Institut Suedois under designveckan i Paris.
https://www.instagram.com/aharstrom/